Discussion Starter
·
#1
·
Description and Photos:
1) Item is in stock, ready to ship
2) 110% money back authenticity guarantee
3) Accept PayPal with Credit Card
4) feedback - denim_de_nimes (eBay)
I will ship priority W/ delivery conf. (and priority international, for $20 more)
This is a beautiful pair of True Religion Bobby Super T jeans in the gorgeous and rare Light Baja stretch wash, size 27. One of their best new 08 washes! Very hard to find, beautiful yellow stitch accents. They are also one of the most flattering cuts out there in my opinion! If there is a perfect 'light wash', I would say these are it
Retail was approx. $320.00
Measurements
Waist: 14.5 " (straight across the top of the waist/top of waistband-unaligned)
Hips: 18" (straight across just below the zipper, edge to edge, not seam to seam)
Rise: 6.5"
Inseam: 33"
Bottom hem (circumference): 19" around
Condition: Excellent, barely worn condition, only the back hems show slight signs of wear (mostly very suble fading). No flaws or defects. Please refer to pics!
Cut: Low-rise boot leg w/ basic 5 pocket. Bobby Super T.
Size: 27 (translates to 2-4) on tag. Refer to measurements for fit purposes!
Material: 99% cotton, 1% elastic
Cut# TRW1890 Style# 10500ML WASH# Light Baja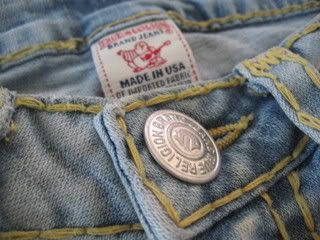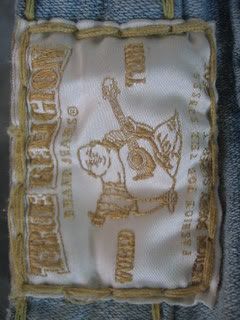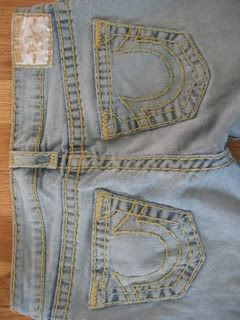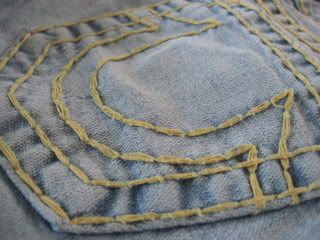 Sizing and Measurements:
in descrip.
Pricing:
160.00
Preferred Methods of Payment:
Paypal with CC


​
My eBay Seller ID:
denim_de_nimes
-----------------------------------------------
I agree to refund 110% of the original purchase price, if the item in question is found to not be authentic:
Yes