Description and Photos:
BNWT ~ TR Joey Big T ~ Super Flatlock in Medium Nine Lives (26/27)


****WANT TO TRADE FOR A SIZE 25****


~*OR Asking $210 (Shipped in the US)*~ (This is what it will cost me to buy the 25's at Revolve - the ONLY place I can find them)!!
PRICE DROPPED TO

$160

(I have found a pair in a 25 and this is what it will cost to replace them)!



Measurements:
Waist (w/dip): 14" ~ (aligned): 15-15.25"
Hips: 17.75-18" ~ Rise: 7"
Inseam: 35" (Unaltered)
Fabric: 99% Cotton ~ 1% Elastin

I purchased these and unfortunately they are just too big. :cry I LOVE them, though and want to replace them with a size 25!! PLEASE trade me!!!
They are BNWT ~ Never Worn ~ No Flaws ~ Unaltered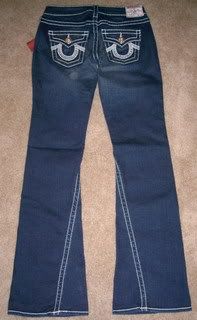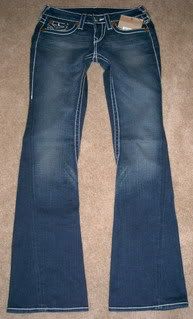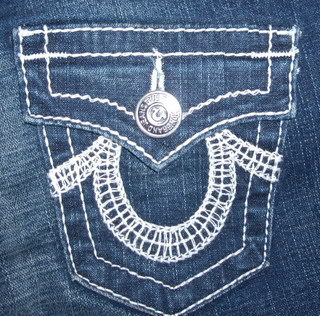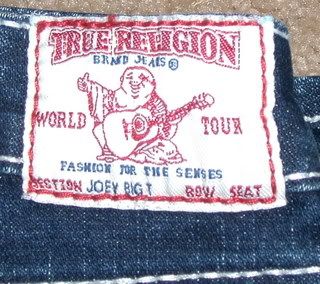 **Link to Revolve to show the fit/color**
TRUE RELIGION Joey Big T Superflat Lock in Medium Nine Lives at Revolve Clothing - Free Shipping!



**Please Note** Any abnormalities in the photos are from my camera, not the jeans!
Sorry, the camera is just not the best and leaves a strange glare/tint sometimes.​




****PLEASE feel free to "PM" me with any questions
or requests for additional pics****​



Shipping ~ Priority Mail via USPS
~*WILL SHIP ONLY TO CONFIRMED ADDRESS THROUGH PAYPAL*~
(IF outside the US, PLEASE "PM" me for shipping price)

​
Sizing and Measurements:
Please see listing.
Pricing:
TRADE for a size 25 *OR* $210
Preferred Methods of Payment:
Paypal with CC
Cash/Check
Money Order
Google Checkout​
My eBay Seller ID:
schk9
-----------------------------------------------
I agree to refund 110% of the original purchase price, if the item in question is found to not be authentic:
Yes