Welcome to the Authentic Forum Dry Denim Introductory Guide!

This guide is designed to introduce you to the concept of dry denim, the process of wearing and washing, and dispel some of those nasty myths associated with dry jeans. This guide will only scratch the surface of all there is to know about dry denim, but it will at least get you started in the right direction towards buying, wearing and washing your first pair. For more information, please see the "F.A.Q., tips and tricks" guide.
What Is Dry Denim?!
Dry denim refers to denim in its raw, unwashed state. It is characterized by its stiff, heavily starched and often coarse exterior and deep blue indigo color. Raw jeans are freshly and richly saturated in indigo dye, and as a result, bleeding is also common during wear.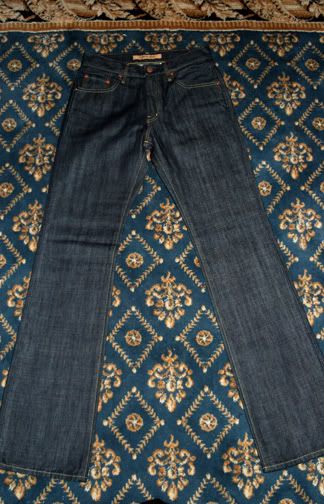 This is an example of what a pair of dry jeans should look like. Notice the deep blue color, lack of fading or distressing, and the subtle sheen.
In this state, denim can almost be considered a canvas. As you wear your raw denim, the garment slowly beings to mold and conform to the user's respective body shape. Due to the heavy degree of starching, the jeans will begin to crease in accordance with your wear patterns. This will eventually develop into defined folds on the upper lap and rear of the knees.
Right, so what's the point? Well as you wear your dry jeans, the indigo color will begin to gradually fade in the points of contact previously mentioned. Over several months, these wear patterns will become more heavily faded specifically according to the body shape and lifestyle of the wearer. Upon washing, the result is a completely unique wash, designed by your own patterns of wear. Personalized jeans which only continue to become more beautiful and comfortable as you wear them, that is the dry denim philosophy.
Before:
After: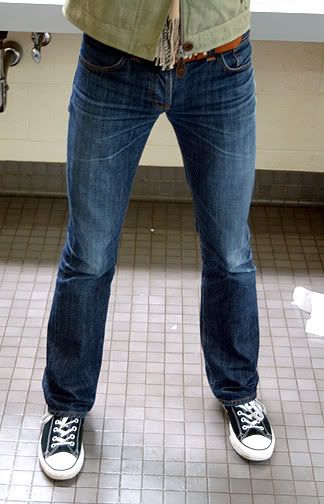 This is how your jeans will eventually look with consistent wear. Notice the areas of fading along the lap, knees, waist, etc.
A few Example Brands:
-Nudie
http://www.nudiejeans.com/
-Uniqlo
http://www.uniqlo.com/us/
-Cheap Monday
CHEAP MONDAY
-A.P.C.
A.P.C.
-Levi's
LevisStore.com
Where to buy:
When buying dry denim, it is STRONGLY recommended that you get an oppurtunity to try on your desired pair prior to purchasing. In this case, there are several cities in which you can find substancial dry denim selections. For you convenience, refer to the provided city guide below:
City Guide - MyNudies.com - Dry, Selvage & Nudie Jeans Forum
In the event that you are unable to go to a dealer in person, there are also several websites online which sell a majority of popular dry denim labels:
CONTEXT CLOTHING
True Religion Jeans, Juicy Couture, Seven Jeans, Citizens of Humanity at Revolve Clothing
Cultizm.com
Dry Till You Die From Jeansfreaks for Jeansfreaks
NUDIE JEANS - Shop Nudie Jeans - Free Shipping, New Denim & Apparel, Fit Guide - FOS5 - Free Shipping!
kitchener : e-shop
Sizing it up:
When you get ready to buy your first pair of dry denim jeans, sizing can be an issue. Dry denim will naturally stretch overtime due to heavy amounts of prolonged wear. As such, it is a very common practice to size down from your usual waist size one or two sizes to accommodate. This is not mandatory, but can be recommended if you prefer a slimmer fit.
Degrees of stretching tend to vary according to the intensity of wear. In most cases, it is common to see approximately one inch or so of stretch in the waist and anywhere from a ¼ of an inch to a ½ inch elsewhere along the thighs, knees and calves. These figures are variables and very much dependant on the lifestyle of the wearer.
How to wear your new dry denim jeans:
Alright, so you took the plunge and invested in a pair of drys. What next? Simple. Wear them often, wear them everywhere, and if at all possible, wear them during intensive physical activity! The more consistently you wear your dry jeans, the better results you can expect from them.
I'm not allowed to wash my jeans?!?!:
The rule of not washing your dry jeans is well established in the dry denim community. When you have a new pair of dry denim jeans, they are richly saturated with indigo dye, and a premature wash can displace all this indigo evenly throughout the garment. This translates into a highly less contrasted fade.
The general rule remains that 6 months is an adequate period of time to go without washing your dry jeans. Some go even longer, often in excess of a year. Some prefer to wash after less time, perhaps only three months, it differs from person to person based on preference and more often than not, impatience. Keep in mind that the "6 month rule" is more of a guideline and as such, can be commonly deviated from.
How to wash your Dry denim:
When the time does come to wash your jeans, there are a few basic steps you must follow.
-Fold the jeans inside-out.
-Isolate the jeans from the rest of your Laundry
The outcome of your jeans will vary depending on the temperature setting you choose. Hotter wash temperatures will garner a somewhat lighter overall color and brighter contrast whereas colder washing temperatures will garner a darker cast with more subtle contrast.
Shrinking and Sanforization:
When you wash your dry denim, the degree of shrinking is determined by two predominant factors. The temperature of the wash, and whether or not your jeans are sanforized or not.
Generally speaking, the hotter the wash, the more shrinking is likely to occur. A majority of shrinking is usually seen in the inseam and less so in the waist. However, it is possible to compensate for shrinking by stretching the inseams out while the jeans are still damp.
Sanforization
is a process that jeans may undergo in order to usually reduce the degree of shrinking in a wash to 3-5% as apposed to up to 10% on unsanforized jeans. The figure is variable. Telling whether or not a pair of dry jeans is sanforized is not always possible merely by looking at them. It is usually recommended that you ask a sales associate at a store or post a thread in the dry forums here if you truly cannot tell.
-What is selvage?
Selvage jeans are those which are made of denim weaved on vintage styled shuttle looms. These looms created a much tighter weave which in turn meant thicker, heavier weighted fabric. Simialrly, these looms would actually close (bolt) the ends of seams creating its namesake, a "self-edge". This self-edge can be seen along the inseam of the jeans. See the pictures below.
This garnered a longer life for the garment making it less prone to fraying. Many consider this desirable both for its durability, and for the status currently attached to the selvage denim image. It should be stressed that jeans made out of selvage denim are not necessarily of unanimously superior quality to non-selvage jeans.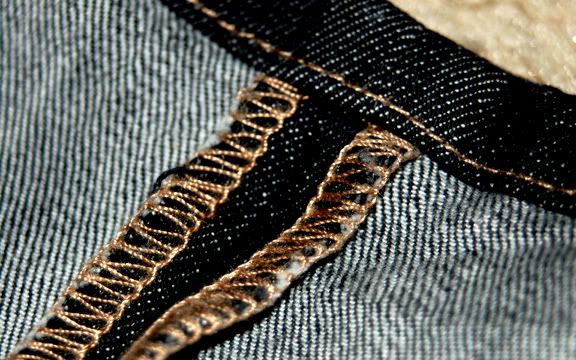 NOT
Selvage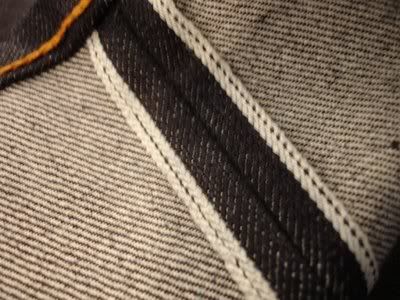 Selvage!
If you still have a question that was not answered by this guide, feel free to PM me! It may be added for future reference.
Special thanks to Bilmaga, Cameland, and all the guys back on mynudies. They have (and are still in the process of) teaching me everything I know. Thanks guys! :magwink