02-09-2011, 12:09 PM
Denim Lover

Join Date: Nov 2006

Location: USA

Posts: 478
Authenticating Chanel Ballet Flats & Figuring Out Shoe Size
---
I purchased these at Nordstrom Rack: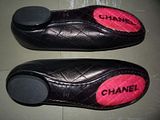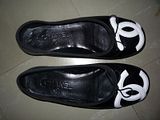 I am skeptical of them being fake though just because I have seen fake jeans and purses in there stores due to customers doing a "bait and switch."
I was wondering two things:
Are these authentic?
And where do I find the shoe size? If I am not mistaken, these should be a European size and the only numbers I see on these shoes are in the gold stamping along side of the outer foot. When I purchased them, the sticker said they were an American 7.5.
Any help would be greatly appreciated. Thanks!